For the media:
If you are a music critic or radio station and would like to request a review copy, please send us an e-mail at info125 @ 125records.com and send us your request. Please keep in mind that we are a small label and may not be able to fulfill all of the requests.
Jill Tracy photo (click on image to download high res jpg):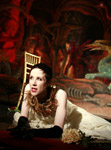 Photo credit: bleedingvisuals
Loud Family photos (click on image to download 300 dpi jpg):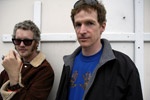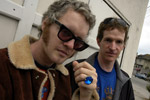 Photo credit: N.D. Koster
Nice things people have said about 125 releases:
Statuesque, Reader, I Curried Him:
"Fans of early Elvis Costello would do well to check out the work of Stephen Manning, the London-based singer/songwriter who records jangly, bedroom pop under the name Statuesque... he does possess Costello's knack for wrapping witty wordplay ('short of marrying a mirror / your intent could not be clearer,' goes one particularly Costelloian lyrical barb) around spiky hooks and occasionally intricate melodies." -Jer Fairall, PopMatters
Jill Tracy, The Bittersweet Constrain:
BEST OF THE BAY '08: "There's just something about the inimitable Jill Tracy that makes us swoon like a passel of naive gothic horror heroines in too-tight corsets. Is it her husky midnight lover's croon, her deceptively delicate visage, her vintage sensibilities? Who else could have written the definitive elegy on the 'fine art of poisoning,' composed a hauntingly lush live score for F.W. Murnau's classic silent film Nosferatu, joined forces with that merry band of bloodthirsty malcontents, Thrillpeddlers, and still somehow remain a shining beacon of almost beatific grace? Part tough-as-nails film fatale, part funeral parlor pianist, Tracy manages to adopt many facades yet remain ever and only herself—a precarious and delicious balancing act. Her newest CD, The Bittersweet Constrain, glides the gamut from gloom to glamour, encapsulating her haunted highness at her beguiling best." -San Francisco Bay Guardian
"More noir than cabaret, Jill Tracy's The Bittersweet Constrain is a mesmerizing example of a musical endeavor that lives and breathes its own atmosphere. Like a trip down the back alleys of a metropolis in decline, you never know where the album is taking you; like an audio flaneur, you may find yourself strolling by the scene of a crime ('Room 19'), finding decadent delight in Faustian bargains ('Sell My Soul'), or becoming obsessed with fatal longing ('In Between Shades'). By turns seductive, dangerous, and knowing, Tracy's voice is pure chanteuse, irresistible even in the face of the beckoning downward spiral. Colored lightly in the hues of torch song and morbid nightclub songbird, the album takes its time to unfold, lulling you with waves of dissolute dreams as it subtly pulls you under the tide." -Liar Society
"Just glancing at the front cover (shot by surrealist photographer Michael Garlington) of The Bittersweet Contrain and you know that you're in for something beautiful, beautiful and dark... Jill Tracy's voice and piano skills are both of equal, remarkable merit. She's a master of them both, and yet she seems to get swept up in her own work... as if she's also the mistress to both her voice and piano. Her music can tease like a new lover, whisper like an old lover or snap like a scorned lover. This is a handcrafted collection of songs and Jill has hand-picked a skilled bunch (her 'Malcontent Orchestra') to back her up... The end result is like the evil twin of lounge/jazz, like a film noir score that comes from the elegant elseworld where shadows The Doors and Edith Piaf cross (if this was a film you know it would have been shot by David Lynch)." -Sepia Chord
"Hot damn, kids, few things are finer than drowning in anticipation for a new album—six long years in this case if you count a soundtrack release, and I do—having that album arrive and, most importantly, having that album more than satisfy said anticipation. The sultry-voiced Jill Tracy, last heard here, is back with her new long player, The Bittersweet Constrain, and it's as wonderfully dark and mischievous and mesmerizing as I had hoped... The lyrics still spin twilight tales of spurned love, untimely ends and thoughts lost in the shadows, slowly creeping unseen and meaning to not merely embrace, but drag us down into those oh-so-wrong exalted states... I suppose that I could name some 'highlights'—the hypnotic languor of lead track 'Haunted by the Thought of You,' the sinister longing of 'Sell My Soul,' the sordid delicacy of 'Room 19,' the seductively sardonic 'Torture'—but I've always been an album guy, so sitting down with nary a weak track and sleepwalking in daydream through all sixty-one minutes is the only way to listen. What a bloody good record. I need a smoke." -L'ennui Mélodieux
Gil Ray, I Am Atomic Man:
"[A] solo album from a drummer, recorded without any actual drums, is an iffy proposition to begin with—making a possible exception for Don Henley's Building the Perfect Beast—and making that album a loose, space-themed song suite would seem to make things iffier still. But since this is a 125 release, disbelief may be comfortably suspended; the folks at the wheel haven't made any wrong turns yet. I Am Atomic Man!, the debut solo release from Loud Family and Game Theory drummer Gil Ray, succeeds in spite of its daffy themes. Even if song titles like 'Man in Space' and 'This Is the Space Age!' send a shiver of fear down your spine, don't fret; though it may give the appearance of a Hawkwind outtakes collection, this album is actually a loving throwback to the lo-fi, homebrewed indie rock of 20 years ago. Astro-Man might spend his time drifting among the stars, but his problems are pretty much just like yours; even better, his songs—performed and assembled entirely by Ray himself—have a pleasantly fuzzy analog vibe sorely lacking from most modern recordings—even most home-studio albums (thanks, Pro Tools!). Scott Miller fans, and baby boomers who grew up imagining Amazon women on the moon, will probably get the biggest kick out of I Am Atomic Man!, but Ray's songs are solid, memorable, and leavened with enough enjoyably low-key humor to make this worth a bite for anyone who enjoys good, old-fashioned, well-written pop music." -Jeff Giles, Bullz-eye.com
"[F]un, witty sci-fi that pulls together rockabilly, power pop, 70s blues rock, and pretty ballads, all unified with space age bloops, blips, and swoops, with lyrics that make dealing with space travel and mean alien monster women sound as believable and commonplace as heavy traffic, fender benders, and arguments with the Mrs. Atomic Man isn't a superhero, he's just a world-weary guy trying to have fun while dodging the pitfalls of his modern life, hoping to escape with his love to a better place." -Jen Grover, Tone and Groove
Don Dixon, The Entire Combustible World in One Small Room:
"[H]is latest disc ranks among his best work... You might have a bit of hesitation about entering this Room, but once you're inside and given its contents a chance to sink in, you'll unpack your things and stay awhile." -Will Harris, Bullz-eye.com
"Anyone looking for smart, edgy pop songs sung with a soulful edge will be glad to know that Dixon can still deliver the goods with ease, but there's a sharper, more intellectual, and more introspective tone to The Entire Combustible World than on Romeo at Juilliard or Most of the Girls Like to Dance But Only Some of the Boys Like To... Dixon's singing is skillful and expressive on each track, while his skills as a producer and an instrumentalist are in great shape—he plays most of the music himself through the magic of overdubbing, and the end product is clever without being pretentious, ambitious without overplaying its artier side... The Entire Combustible World in One Small Room shows he's only grown and improved with the passage of time; this is a striking and powerful work from a man who seemingly has more exciting things to say now than ever." -All Music Guide
The Loud Family and Anton Barbeau, What If It Works?:
"I've always preferred Game Theory over the Loud Family, but I think that had more to do with a change in my taste buds, rather than the quality of Scott Miller's songwriting. So when it was announced that Scott Miller was back in action under the Loud Family moniker, I wasn't too excited until I heard that my pal Anton Barbeau was on board and I thought, 'wow, this could be interesting.' Released on 125 Records under the name The Loud Family with Anton Barbeau: What If It Works? It is some of the best Scott Miller music I've heard in awhile. The CD opens with a masterful version of the Rolling Stones' 'Rocks Off' (the vocals are shit hot—and the band rocks like a mother)—resulting in one of the best Stones covers I've ever heard. No
joke. Scott and Anton weave in and out of each other like the Glimmer Twins themselves. Scott's own music is equally is inspired such as the next tune 'Song About Rocks Off'—which doesn't have anything to do with the Stones tune—and sounds like classic period Game Theory to these ears. I've been spending the better part of the last two years cranking the Mona Bone Jakon album, so when Cat Stevens' 'I Think I See The Light' was listed on the CD case, I thought, this should be brilliant—and it is. They've got the piano part nailed down and the vocals are sublime. Really a wonderful disc all the way thru and after you're tired of it (which should take quite awhile), then you can start spinning Anton's own disc In The Village Of The Apple Sun which is equally sweet." -Ptolemaic Terrascope
"After the release of Attractive Nuisance in 2000, Scott Miller quietly folded his band the Loud Family after eight years and five albums. However, Miller has long been a vocal supporter of fellow cult-hero smart pop songwriter Anton Barbeau, and the prospect of a collaboration with Barbeau was enough to get Miller to pull his band out of mothballs, at least for a while. What If It Works features Miller and Barbeau working with a handful of past-and-present Loud Family members (including Jozef Becker, Kenny Kessel, Gil Ray, and Alison Faith Levy), with the performances favoring the more straightforward side of the band's sonic palette (lots of hooks, plenty of guitar and rolling keyboards, not so much sonic collage). The two frontmen each wrote four songs and collaborated on one number, with well-chosen covers from Cat Stevens, the Zombies and the Rolling Stones filling out the set (they start the album with 'Rocks Off,' and believe it or not, it works). As is his custom, Miller's numbers tend to rock harder and feature tougher guitar lines and more intricate melodies than Barbeau's, but the latter is in fine form here, and his 'Pop Song 99' and 'Flow Thee Water' find him in superb shape, while 'Total Mass Destruction' and 'Mavis of Maybelline Towers' show that a six-year layoff hasn't dulled Miller's gifts as a writer or performer. What If It Works isn't a major addition to the catalog of either artist, but it does capture both Scott Miller and Anton Barbeau writing and singing very well, bringing out the best qualities in one another; this is a collaborative album where everyone involved seems to have been having a good time, and fans of either act will doubtless feel the same way." -Mark Deming, All Music Guide
"This album is a collaboration that looks good on paper, and works even better in practice. Loud Family leader Scott Miller and Anton Barbeau are quintessentially quirky, pop songwriters who have a penchant for strong melodies, a bent for unusual lyrics, and manage to make it work though neither have particularly strong voices. But they have the songs and the personalities to sell them. Together, there are no egos, and their sensibilities blend perfectly... The playing is great throughout... Miller's songs haven't been so straightforward since the early days of Game Theory... [I]t would be a shame if this is a one-time only project. Perhaps they could collaborate on more than one composition, or find more groovy covers, or do each other's songs. Whatever it would be, I'd like to hear it." -Mike Bennett, Fufkin.com
"The record is filled with dreamy, psychedelic power-pop anthems, including a mighty cover of the Stones' 'Rocks Off.' Check the revolving head-spinning
melody of 'Total Mass Destruction' or the fabulous twang and shift of 'Flow Thee Water' and the swirling 60s organ of the tripped-out Zombies cover 'Remember You.' If the power chords and upbeat loon-dance of the epic 'Mavis of Maybelline Towers' doesn't rouse your senses then you're probably dead already. A joyous, sky-touching cauldron of pop classics and genius melodies ('I Think I See The Light'), we want this record to be huge, not discarded or filed under oddments. So let's help it on its way." -Fuse
"Where has this band been all my life? Thanks to the prolific Anton Barbeau I have made another great discovery from Sacramento this year. Then I found out that none other than Aimee Mann (whose music I have a lot of time for!) asked The Loud Family to open for her on tour... Opening with an energetic version of The Stones' 'Rocks Off' (the opening song on Exile on Main Street) with Hammond Organ added by Ant, The Loud Family then has the audacity to write a 'Song About Rocks Off' where the voices of Scott Miller and Barbeau work well together. Ant takes the lead on his own 'Pop Song 99' while 'Total Mass Destruction' gives a shrewd insight into critical acclaim not necessarily translating into commercial success! Ant adds some unique keyboard touches and as others have commented two single minded stalwarts of the 'indie' scene coalesce in a surprisingly catchy and accessible format that, dare I whisper it—is deserving of a degree of mass appeal?" -Phil Jackson, Zeitgeist
"'Mavis of Maybelline Towers' is a gem of a psych pop song and a new Loud Family classic, while the Antman's title cut hits every pop pleasure button possible... one of the coolest projects in the careers of both Miller and Barbeau."
-Michael Toland, High Bias
"Scott Miller remains the overlooked pop visionary of the genre's mid-'80s/mid-'90s salad days... The new contribution to a Best of Scott Miller mixtape is 'Mavis of Maybelline Towers,' an effervescent jangle on the joys of marriage and new parenthood that likely holds clues to his semi-retirement. Barbeau's touching title track is an outsider's doe-eyed view of similar terrain, a forlorn hope for something 'as close to forever as two freaks should be allowed.' It could apply to their careers as easily as romance, and it does work—everywhere but at the bank." -Glen Sarvady, StompandStammer.com
"If you're looking for power pop with brains, hooks, and enough wordplay to entice a whole Scrabble tournament, What If It Works? is a great place to find it."
-Michael Zwirn, TrouserPress.com
"...a concise selection of typically catchy originals that should easily please longtime Loud Family fans—and hopefully set the stage for a lasting comeback." -Mike Appelstein, St. Louis Riverfront Times
"Who would have thought that the combination of two of indie pop's most eccentric singer/songwriters would end up sounding relatively... well... normal? Surprisingly, that's pretty much what happens when the Loud Family's Scott Miller teams up with Anton Barbeau on What If It Works? This is the first new Loud Family effort since 2000's Attractive Nuisance, and the first collaboration between Miller and Barbeau. The 12 songs are typical Loud Family smart-pop (including a frothy cover of the Rolling Stones' 'Rocks Off'), featuring clever lyrical twists and shared lead vocals. Coming from two guys who have written songs with titles such as 'Please, Sir, I've Got a Wooden Leg' and 'Hot Rox Avec Lying Sweet Talk,' simple pop tunes such as 'Kind of In Love' and 'I Think I See The Light' are a tad startling, but still damned good. Better than damned good are Barbeau's dorky-yet-catchy 'Pop Song 99' and Miller's stunning 'Mavis of Maybelline Towers,' both of which rank right up there with these guys' finest work. Other ringers are the laid back 'Total Mass Destruction,' where Miller gives insights on his long layoff when he sings 'the fanzines rave, but I can't see it paying the bills,' and Barbeau's bent bubblegum opus 'I've Been Craving Lately,' which closes things out on a high note. Toning down the overt nuttiness to a manageable level serves mad semi-geniuses Scott Miller and Anton Barbeau well, and makes What If It Works? an excellent addition to the Loud Family library." -John M. Borack, Amplifier
"Six years on from Attractive Nuisance and the brilliant, self-effacing Scott Miller returns with a revamped Loud Family, now something of a Go-Betweens-styled partnership with singer-songwriter Anton Barbeau. By kicking off with a punchy, new wave take on the Stones' 'Rocks Off,' it's immediately clear that Miller+Barbeau are a real band, not a wooden one, and the record is strong and playful straight through. Following close is Miller's reflexive 'Song About "Rocks Off,"' just the sort of twitchy, nostalgic, brainiac pop of which he's master. Barbeau's lush, twining tunes and adenoidal tones are good company for Miller's, and the sole co-written number '(Kind Of) In Love' is more than kinda swell. The title song, by Barbeau, feels like a sweet, high-energy update of Bowie's 'Kooks.' Covers of the Zombies' 'Remember You' and a proggy take on Cat Stevens' 'I Think I See the Light' are charming, but might miff fans hungry for new originals. Still, a most welcome and overdue return." -Kim Cooper, Scram
The Loud Family, From Ritual to Romance:
"These tapes, recorded on the band's 1996 and 1998 tours, reveal the rough, antagonistic power of the late Louds, their willingness to take Scott's songs in their teeth and shake 'em silly, all of which made the fundamental prettiness of the music seem more touching and fragile. With Eno, Pixies and My Bloody Valentine covers, and a closing salvo that left me breathless and punching the replay button." -Kim Cooper, Scram
"[T]his posthumous live album is typically unconventional, drawing on their most obscure album tracks, a few covers, and a couple tunes from Miller's earlier band Game Theory. The opening medley of 'Where the Flood Waters Soak Their Belongings' and Brian Eno's 'Here Come the Warm Jets' features dark, ominous keyboards from Alison Faith Levy and a throat-shredding Miller vocal; it's the sound of a band who'd explode if they hadn't gotten to play those songs at that minute. The most uplifting number here—and, hell, in recent memory—is called 'Dee-Pression,' and it leads to a letter-perfect cover of the Pixies' 'Debaser.' Elsewhere there's the usual blend of finely crafted pop hooks, elusive yet resonant lyrics, male-female harmonies (Levy joined the band late, but she was Miller's ideal foil), and more self-depreciation. The last words sung on Miller's intended final album are 'I'll do better next time.' Let's hope there is one." -Brett Milano, The Boston Phoenix
Statuesque:
"He has an English accent thicker than Billy Bragg, is nearly as self-deprecating as Morrissey, and flaunts the kind of DIY ethic that would make Ian MacKaye break into a cold sweat. Enter Stephen Manning, the nucleus and brainchild of Statuesque, a strangely arresting bedroom-pop wordsmith direct from London. Dispensing the same type of romantic observations (without quite the acumen—not yet, anyway) of the aforementioned, Manning paints from a variety of palettes, resembling everyone from Aztec Camera to Portastatic to mid-period Wire, and even Paul McCartney. In spite of Choir Above's unyielding song-to-song diversity, Manning manages to tidily hem his disparate patchwork with a unifying thread, poignantly defined by a homegrown savviness that works wonders in defining this album." -Neal Agneta, The Big Takeover
"My favorite is 'The Audition,' which rails on the emptiness of the pop machine in general, but there's plenty the chew on throughout the baker's dozen appearing on Choir Above. Lovers of Britpop, from the Kinks to Charlatans to Television Personalities to eccentrics like Roy Harper and Robyn Hitchcock, will love this stuff. -Luke Torn, Pop Culture Press
Jill Tracy:
"...positively poetic... Jill Tracy has made an exquisite, even luscious record with Diabolical Streak... she wraps you with a smoky coo and as you soften under that sophisticated smirk you realize too late she's tied you to the third rail while the cobwebs descend and the seas fill with blood." -Silke Tudor, SF Weekly
"Very distinctive and exciting... Jill Tracy sings with the kind of breathy intimacy that will fulfill your dreams of being tortured by beautiful women." -LA Weekly
"I find Jill Tracy utterly intriguing. She transports you into a magical world solely of her creation. I love it!" -Susan Stamberg, NPR
"Jill Tracy creates an elegant netherworld that is both seductive and terrifying." -Clive Barker
Anton Barbeau:
"Due to his brilliant consistency, The Golden Boot is as good as anything in his catalog. Barbeau has a gift for combining eccentric lyrics and subject matter with winning melodies and indelible hooks." -Michael Toland, High Bias
"If you aren't already familiar with Anton Barbeau's repertoire of material, The Golden Boot is a terrific place to start." -Eric Sorensen, Amplifier, Sept/Oct 2001
"...a welcome addition to the Barbeau collection." -Christian Kiefer, Sacramento News & Review
"...pop genius...Combining a keen ear for Brit popcraft with the best excesses of shaggy-dog surreal songwriterdom..." -Sam Hurwitt, East Bay Express (Berkeley, CA)
Econoghost:
"With bands like Ladytron nimbly mining the long-overlooked 'Kraut Rock' vein of synth/drone/machine angst of 1970s Western Germany, Shalini Chatterjee... has raised the stakes with this warm and fuzzy collection of chrome-plated marvels. Pop this number into your car and it morphs into a 1974 Mercedes, and your commute becomes the Autobahn." -Tony Madejczyk, The Independent Weekly (Raleigh-Durham, NC)
#5 on his list of the Best CDs of 2002!
"Anneu'ed is... a spot-on Krautrock homage, with the simple, hypnotic rhythms; interlocking guitars; and droning synths that characterize the style popping up on every track... Econoghost touches on virtually every shading of Krautrock with humor and affection... Even though Anneu'ed may not be as envelope-pushing as some of the Krautrock-inspired releases of the past, Econoghost's lively, lighthearted take on the style makes it, paradoxically, that much more interesting. As with her main work, Chatterjee invests Krautrock's all-too-clinical sound with emotion and fun, making Anneu'ed an unpretentious little gem of an album." -Heather Phares, All Music Guide
"Shalini Chatterjee is known to many as a power pop icon... But here she replicates the sound of 'Krautrock', especially Neu!, Kraftwerk and Cluster. Recorded at home ('Mead Hall Studios') and mixed with Mitch, it sounds very much like these bands but is also imbued with her pop sense. A fun listen!" -Larry Crane, Tape Op Magazine
"Opting for electronics instead of acoustics, this lumniscent meld of trance and techno-pop evokes cosmic aural images of Can, Kraftwerk, Neu! and David Bowie's no-rock masterpiece Low. Instrumentals such as 'Wolfus' meld melodic minimalism with industrial beats while vocal tracks including 'Danse Brunhilde' ripple with staccato alien grooves. Hypnotic, detached and cerebral, Econoghost is left of avant-garde and to the right of alternative rock." -Amplifier
Jill Olson:
"With its emphasis on hooks, harmony and immediacy, My Best Yesterday is as timeless as the title implies." -Lee Zimmerman, The Miami Herald
"Olson... accomplishes the tough trick of writing catchy songs that offer a hint of familiarity in both sound and story but still seem fresh. And at the heart of the album is the perfect title track, the kind of song that inspires you to start making your year-end Best Of mix in June." -Rick Cornell, Amplifier
"The jingle-jangle of the Searchers in the guitars, their 'Needles and Pins' bite in this young woman's voice, a warmth and a feel for loss that the Searchers never got around to—and a sense of place that makes Olson... at once familiar and someone you haven't yet met." -Greil Marcus, Salon.com
Paula Carino:
"Paula Carino has one of those strong, confident voices that we'll be hearing for years to come. Aquacade is an impressive debut." -Amplifier
"I like smart, cutting people who know their way around the English language. And when they can put it all to music, so much the better." -IndieCrit
Belle Da Gama:
"[Bradley] Skaught assays mildly psychedelic pop, skillfully rolling impressionistic lyrics, flowing melodies and earnest emotion into the kind of chronic that goes straight to your head in short order." -Michael Toland, High Bias
"Solid quirky and lovable short pop songs with all the sweet harmonies and chunky chiming guitars you could wish for." -Jeff Cotton, Comes with a Smile
"Wow! Who are these guys? 'CA Redemption Value' has a great guitar hook and... 'Steadfast and Clear' [is] one of the best songs of last year. Gorgeous!"
-John Auker, Rock Beat International